Innate immune reprogramming to overcome therapy resistance in high-risk colorectal cancer
Life Sciences 2020 - Precision Medicine – LS20-042
With its Life Sciences "Precision Medicine" 2020 Call, the WWTF is funding a project to develop novel immunotherapies for metastatic colon cancer. Together with the Medical University of Vienna, the WWTF succeeded in getting this project off the ground in December 2021.
This was achieved thanks to generous donations from three foundations and doubling through matching funds from the City of Vienna.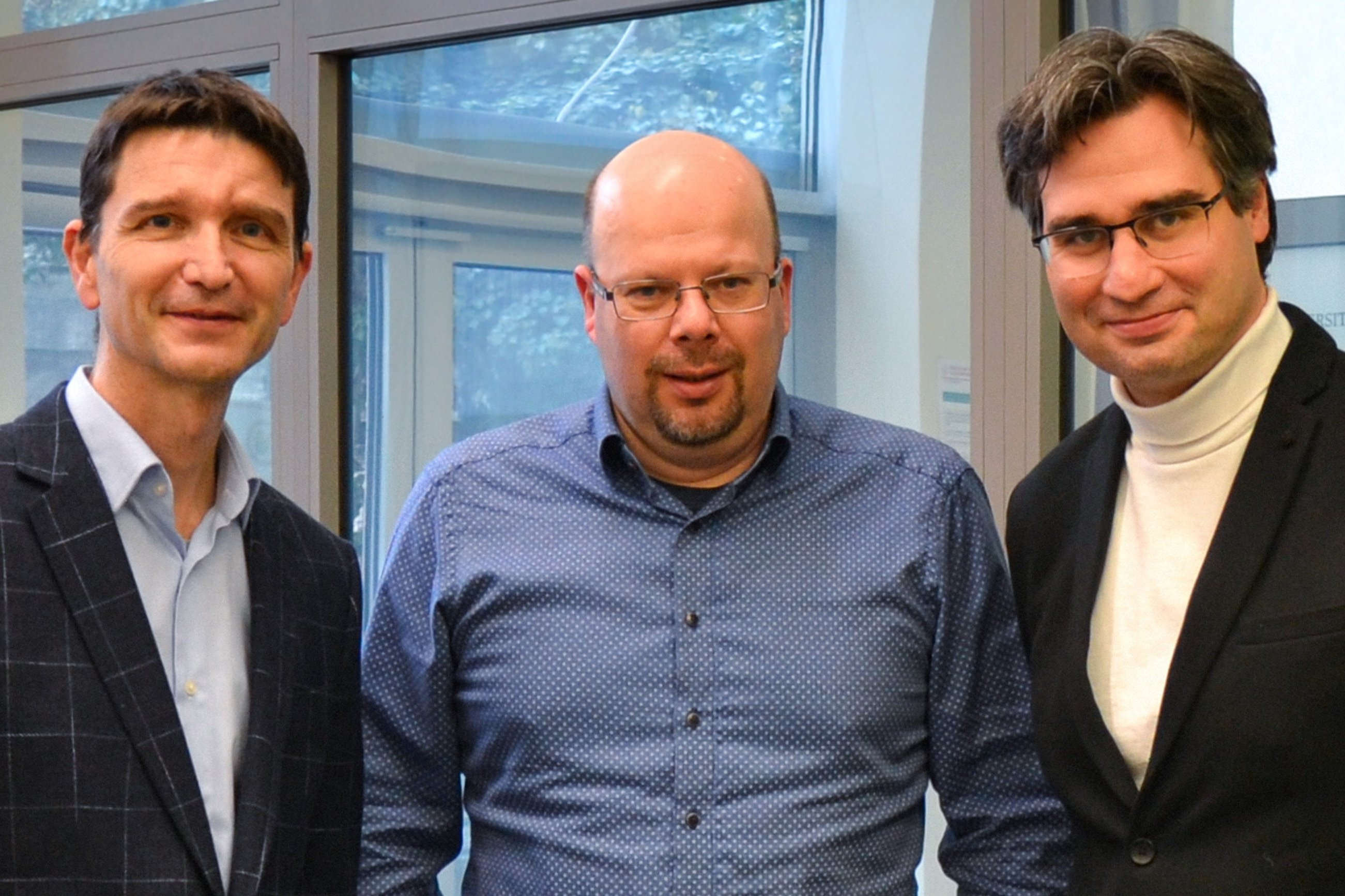 An initiative of the Vienna Science and Technology Fund (WWTF) will enable the interdisciplinary team of researchers led by Dietmar Herndler-Brandstetter (Center for Cancer Research), Michael Bergmann (Department of General Surgery) and Matthias Farlik-Födinger (Department of Dermatology) to push ahead with the development of novel immunotherapies for colorectal cancer. The project is entitled "Innate immune reprogramming to overcome therapy resistance in high-risk colorectal cancer", is funded to the tune of €800.000 and will run until November 2024. The three researchers are members of the Comprehensive Cancer Center (CCC) of MedUni Vienna and University Hospital Vienna.
There is an urgent need for new therapeutic approaches in metastatic colorectal cancer: the disease is the third most common cancer in both men and women, and, in 25% of patients, is not diagnosed until it has reached the metastatic stage. Only 14% of patients survive for longer than 5 years after diagnosis. On top of that comes the fact that 95% of those treated fail to respond to the currently approved immunotherapies.
New therapeutic approach: phagocytes
The innovative and interdisciplinary research project of Herndler-Brandstetter (coordinator) Bergmann and Farlik-Födinger therefore concentrates on the development and preclinical testing of novel immunotherapies using innovative sequencing and screening methods. The work focuses on the reprogramming of the innate immune system, more specifically of macrophages, the scavenger cells of the immune system.
Tumours are able to bind macrophages to them via the surface receptor SIRP alpha, thereby inhibiting these macrophages. Furthermore, they are able to alter macrophages that migrate into the interior of tumours, in a variety of ways. As a result of this, the phagocytes not only lose their ability to eliminate the mutated cancer cells, but also help to suppress the immune response to the tumour by preventing other immune system cells from fighting it.
How tumours alter macrophages
In their project, the researchers want to better understand which tumour subtypes are especially successful in modifying macrophages and why. This can then be used as a basis for developing novel strategies for precision diagnostics, reprogramming macrophages and overcoming immunotherapy resistance. The long-term goal is to test the findings in clinical trials on colorectal cancer patients.
Methods that are central to the project include the construction of special mouse models, for example so-called patient-derived tumour xenografts in mice with human immune system (Herndler-Brandstetter), innovative sequencing and screening methods (Farlik-Födinger), and the performance of multiplex immunohistochemistry (Bergmann).
The project-team
Dietmar Herndler-Brandstetter
Dietmar Herndler-Brandstetter studierte Pharmazie an der Universität Innsbruck. Als PhD Student und als FLARE Postdoc Fellow arbeitete er am Institut für Biomedizinische Alternsforschung in Innsbruck und an der University of Birmingham (UK).
Im Rahmen seiner Tätigkeit als Erwin Schrödinger Postdoc Fellow entwickelte und charakterisierte er neuartige humanisierte Mausmodelle für die translationale Krebsforschung und für die Krebsimmuntherapie im Labor von Richard Flavell (Yale School of Medicine, USA).
2018 wechselte er als Juniorgruppenleiter ans Zentrum für Krebsforschung der MedUni Wien. Mit seinem Team untersucht er, wie die Heterogenität von Patiententumoren und verschiedene Immuntherapien das Tumor-Immun-Mikroenvironment formen und das Tumorwachstum und die Metastasierung beeinflussen.
Dietmar Herndler-Brandstetter hat mehr als 40 Publikationen in Fachzeitschriften wie Immunity, Nature Immunology, Gut, PNAS und Cell Host & Microbe veröffentlicht und erhielt den Karl-Landsteiner-Preis der Österreichischen Gesellschaft für Allergologie und Immunologie für seine Arbeit darüber, wie das Altern die Funktion des Immunsystems beeinflusst.
Darüber hinaus ist er Mitglied des Comprehensive Cancer Center (CCC) von MedUni Wien und AKH Wien.
Matthias Farlik-Födinger
Matthias Farlik-Födinger studied microbiology and genetics at the University of Vienna and completed his PhD in the laboratory of Thomas Decker, where he worked on gene regulation processes leading to the activation of antimicrobial genes in macrophages during infections.
As a postdoctoral researcher, he worked in Christoph Bock's team at the Center for Molecular Medicine of the Austrian Academy of Sciences (CeMM). Working closely with bioinformaticians, he developed and established new sequencing technologies for the epigenetic characterization of cells in an interdisciplinary environment with the aim of understanding the development of both healthy and diseased cells. He also works closely with clinical researchers to identify the original cell type and molecular basis of cancer progression in rare macrophage-driven diseases.
In 2019, he was appointed junior group leader at the Department of Dermatology, Medical University of Vienna, and became head of the laboratory for the study of INnate IMmune ACtivation (INIMAC). He and his team use state-of-the-art technologies to investigate the role of innate immune cells, such as macrophages and natural killer cells, in shaping the tumour microenvironment and in responding to infectious diseases.
His work has led to much-cited publications in scientific journals such as Science, Cancer Discovery, Immunity, CellStemCell and Molecular Cancer.
His doctoral thesis won him the prestigious "Award of Excellence" from the Austrian Ministry of Science as well as the "Ursula and Fritz Melchers Prize" from the Austrian Society for Immunology and Allergology. He recently received the "Research Award of the Austrian Society for Biotechnology" and the "MEDA Award" of the Austrian Society for Dermatology and Venereology for research into non-melanoma skin cancer.
Matthias Farlik-Födinger is also a member of the Comprehensive Cancer Center (CCC) of MedUni Vienna and University Hospital Vienna.
Michael Bergmann
Michael Bergmann studied medicine at MedUni Vienna.
Following a postdoctoral fellowship at Mount Sinai Medical School, New York, on the genetic modification of the influenza A virus, he completed his training as a specialist in general surgery at MedUni Vienna, where he became Associate Professor of Surgery in 2003 and specialised in colorectal and robotic surgery.
In addition to his clinical career, Michael Bergmann established a translationally oriented research group. He established the first oncolytic influenza A virus and generated stable influenza virus vectors, contributed to the understanding of the Toll-like-3 receptor signalling pathway for apoptosis during viral infections, and described the influence of retrotransposons on telomere regulation in cancer cells.
In the field of clinical cancer immunology, he designed prospective study protocols for investigating immune checkpoint inhibitors during radio-chemotherapy for rectal cancer. He is currently investigating the effects of radiotherapy on the tumour microenvironment, the impact of Immunoscore© on the efficacy of chemotherapy in colorectal cancer, and the value of nuclear imaging for detecting immune checkpoint molecules in gastrointestinal cancer.
Michael Bergmann is a member of the management team at the Comprehensive Cancer Center (CCC) of MedUni Vienna and University Hospital Vienna.
About WWTF
The Vienna Science and Technology Fund (WWTF) was set up in 2001 to promote cutting-edge research in Vienna and to make the city attractive to international scientists.
The private non-profit funding organization supports larger scientific projects that offer medium- to long-term economic and/or social benefits. The funding primarily covers staffing costs, but also investment, networking and overhead costs. The potential project term ranges from two to four years. The amount of funding can be up to 1 million euros, depending on the call.
The WWTF has been promoting life sciences since 2003 and, in recent years, has launched two major calls focussing on precision medicine.
In the "Precision Medicine 2020" call, the allocated €6 million were quickly exhausted due to the high quality of applications. This colorectal cancer project was also judged to be excellent. The international funding jury therefore recommended that the WWTF should fund it.
This has now been achieved: €350.000 came from three private foundations and this amount was doubled by the City of Vianna's Matching Funds, the residue being provided from the WWTF's own funds.
Comprehensive Cancer Center Vienna
The Comprehensive Cancer Center (CCC) Vienna of MedUni Vienna and Vienna General Hospital connects all professional groups of these two institutions that treat cancer patients, research cancer diseases and are active in teaching or training in this area.
Text: DI Isolde Fally, MAS PR (isolde.fally@ccc.ac.at).