Research Focus
The science behind adverse events
The basic principle of conventional cancer therapy, like chemotherapy and radiotherapy, is the direct killing of fast dividing tumor cells. Yet, as these nonselective cytotoxic strategies also affect healthy, actively proliferating cells, patients suffer from stigmatizing adverse effects (e.g. complete hair loss, anemia, and diarrhea).
Because of recent progress in the field of precision medicine, tumor specific alterations can now be selectively addressed by targeted cancer therapies. Today, targeted cancer drugs are used as first- and second-line therapy with a high level of clinical efficacy. Interestingly, whereas with these drugs "classical" adverse effects of cancer therapy are not observed, patients treated with targeted cancer drugs frequently develop "novel" adverse effects that compromise the patient's quality of life and may even lead to therapy discontinuation. Tyrosine kinase inhibitors are, together with immunotherapy, among the most promising approaches for modern efficient cancer therapy.
In particular inhibitors for the epidermal growth factor receptor (EGFR-I), which are widely used to treat solid tumors such as colorectal and lung cancer, are associated with a high frequency of stigmatizing cutaneous side effects, including an acneiform rash, dry skin, pruritus, paronychia, alopecia or aberrant hair growth.
Importantly, there is a direct correlation between cancer therapy response and rash severity, indicating that the rash severity correlates with EGFR blockade efficiency. It has been established that cutaneous side effects are caused by the direct inhibition of EGFR signaling in the skin. The aim of this project is to decipher the mechanistic details of these adverse events.
This will then allow the identification of new therapeutic targets for prevention and management of the adverse effects. This will not only lead to an improved quality of life for the cancer patient, but will also allow a more aggressive application and the combination of different targeted cancer therapies. Therefore, we here aim to optimize the efficacy of modern cancer treatment.
Selected Publications
BMPR1a is required for the optimal TGF-β1 dependent CD207 + Langerhans cell differentiation and limits skin inflammation via CD11c + cells
Mathias Hochgerner, Thomas Bauer, Victoria Zyulina, Elisabeth Glitzner, Sarah Warsi, Joanne E Konkel, Carmen Tam-Amersdorfer, Wanjun Chen, Stefan Karlsson, Maria Sibilia, Herbert Strobl;
J Invest Dermatol. 2022 Mar 14;S0022-202X(22)00195-6. doi: 10.1016/j.jid.2022.02.014.
Hair eruption initiates and commensal skin microbiota aggravate adverse events of anti-EGFR therapy
Jörg Klufa, Thomas Bauer, Buck Hanson, Craig Herbold, Philipp Starkl, Beate Lichtenberger, Dagmar Srutkova, Daniel Schulz, Igor Vujic, Thomas Mohr, Klemens Rappersberger, Bernd Bodenmiller, Hana Kozakova, Sylvia Knapp, Alexander Loy, Maria Sibilia;
Sci Transl Med. 2019 Dec 11;11(522):eaax2693. doi: 10.1126/scitranslmed.aax2693.
Medical University Vienna - November 2020
Thomas Bauer - Researcher of the month November 2020
(Video only available in German)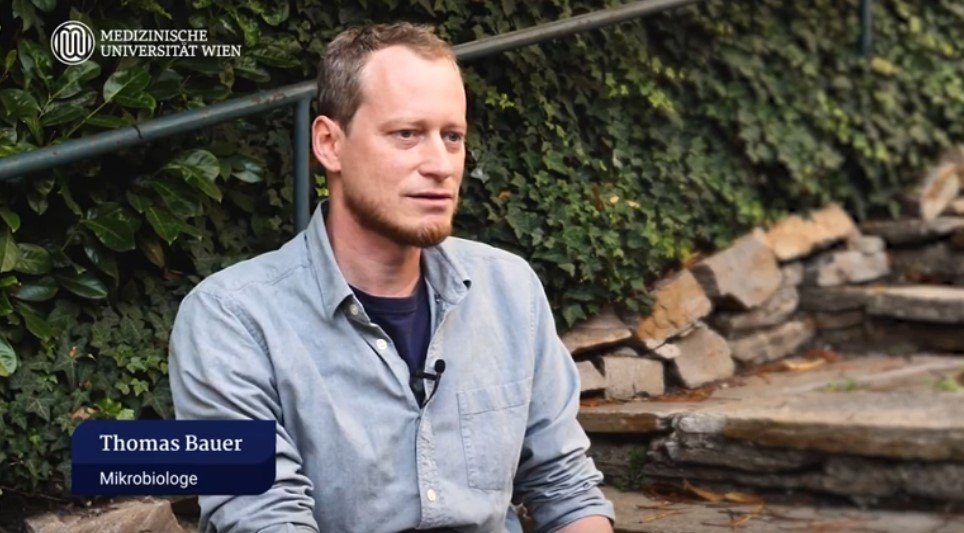 Doktorinwien - 01/2020
New therapy against skin reactions
(Article only available in German)
Biermann Medizin - 13. December 2019
EGFR blockade: Innovative therapeutic approach could prevent serious side effects
(Article only available in German)
Institute for Cancer Research - 08/2019
Successful cancer therapy - in the shadow of microbes
(Brochure only available in German)