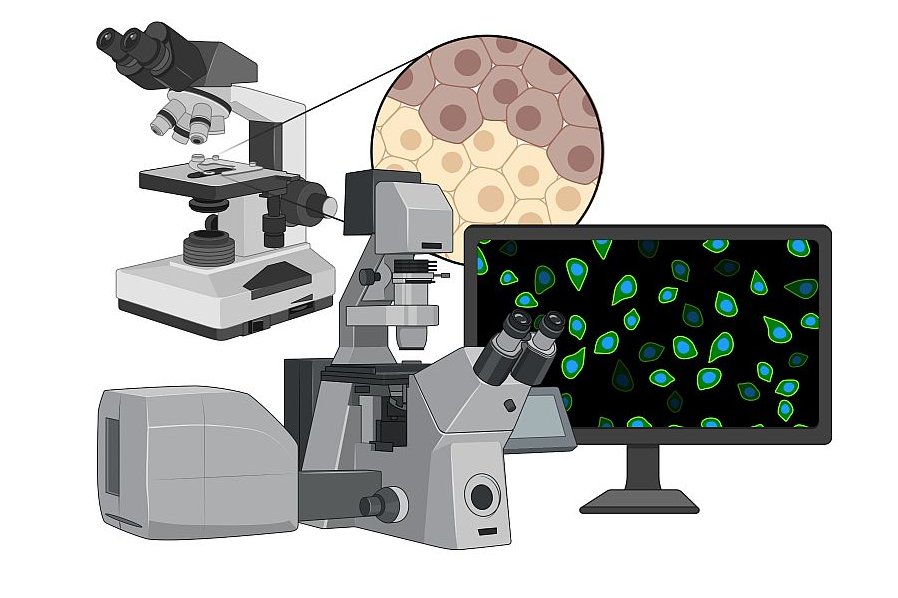 The Microscopy Facility offers a comprehensive range of state-of-the-art light microscopes and software solutions for image analysis. Experienced staff provide support in the planning, acquisition and evaluation of imaging analysis methods.
Our services:
Preliminary discussions and advice on imaging experiments
Support in planning and sample preparation
Training on light microscopy systems and analysis softwares
Assistance with microscopy
Image data processing and analysis
We are also involved in the maintenance and upgrade of existing systems, as well as in the acquisition process of new systems. This includes organizing demos, subsequent testing of systems and determining the required components of complex imaging systems.
Our methods:
Bright field microscopy
Wide field fluorescence microscopy
Confocal microscopy
Live cell time lapse microscopy
Spinning disc confocal microscopy
Digitization of histological samples
Image-based cytometry / high content screening
Automated imaging
Our systems:
Various wide field fluorescence microscopes, upright + inverted, incl. cameras
Visitron Live cell phase contrast & wide field fluorescence microscope incl. incubation, 2D FRAP
Zeiss LSM700 laser scanning confocal microscope
Olympus spinning disc confocal microscope with Yokogawa unit (50µm + SoRa disc), incubation, ScanR high content screening software
Incucyte S3 + Wound maker Tool
3D Histech SCAN II bright field slide scanner
3D Histech MIDI fluorescence slide scanner
Huygens Deconvolution Software
Definiens Tissue Studio
etc.
To allow us to provide best possible support and imaging quality, please involve us in planning of your experimental setup and contact us timely.
Email of the CF microscopy & imaging: imaging-CCR@meduniwien.ac.at